To stay organized you need a day planner: a weekly date book in which you can keep track of appointments, notes, address information etc. And of course it should be cute, I mean seriously: it will be with you at business appointments, in class, or wherever it is that you go. Some of these are suitable for moms, others for all women and girls.
Shown above is the Bold Blossoms Engagement Calendar
These are quite upscale mom planners. Momagenda does also have cute planners for single girls.
Stay well-organized with these very beautiful dated planners. They come in Desk calendar and Purse sized. Also available in green, silver and chocolate-brown.These chic metallic covers just look so good…
The week-a-view format is complemented with a month-by-month overview page. To help you prioritize specific areas of your life each day has four extra blocks.
These are 17 month calendars – reaching from August  till December the next year.
Personalization is available for the cover in print or script fonts, making this a very good gift for your girlfriends with birthdays in summer. You can pick one out of three colors for the personalized text: gold, silver or blind-emboss.
A reader says:
I think our family would descend into total chaos if I did not carry my planner with me wherever I go – in fact it is right in front of me now as I type!
Bold Blossoms  Soft-cover Engagement Planner
Full 17 months: starts August 
A fun planner for women who do it all! Small enough to be portable but with plenty of room to plan, this planner has tear-off lists, 288 stickers, a pocket, and an elastic-band closure. Week-per-spread view plus monthly views.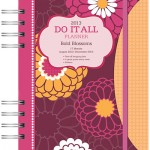 Bold Blossoms Engagement Calendar
Fun bitchy planner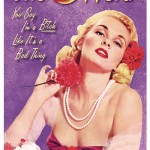 The B Word Softcover Planner 
The B Word weekly engagement planner is bold and sassy (and just a little bit bitchy)! Beware: spending a year with these retro women and their attitude may rub off on you. But as long as you appreciate their sense of humor you will be fine! This year's version is purple and hot!
Oh, and like all good planners it starts in September and gives you planning space till December the upcoming year.
Yes, these are great. I use one every year for my purse. They are great at keeping track of doctor appts. for everyone in the family. Honestly, I fill mine up with everything I have to keep track of.
Digital Calendar or Pen to Paper?
I've switched to a digital calendar (Google calendar) on my phone – you?
I finally switched to using a digital calendar on my smart phone (android) and on my iPad as well. It turns out that the main reason for this system is that if you use one online calendar – say Google calendar – it automatically synchronizes with all your appliances. So I can keep track of contacts online and my phone will know about it. I can note new appointments on my iPad and find them on my phone. It really is ideal.
Old fashioned pen and paper advantages
They work even when there's no electricity
They don't need batteries
I like the feel of pen to paper, it helps me think
In some ways I'm old fashioned
Cheap: paper gets the job done for way less money than those expensive smart phones. Online calendars may be cheap, but you can't carry them around with you.
No problems losing your information when Google has problems with synching (happened to me a few years ago – however, I think they've fixed that bug)
A reader says: 
I am a combination of both. My paper calendar mainly has information about my baby I may need his doctor to have a look at and to carry in his diaper bag since they don't allow cell phone use while you are with the doctor.