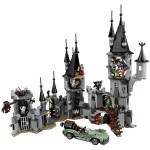 For Lego lovers of any age, Halloween would not be complete without a bit of Halloween Lego. For this purpose Lego has developed their Lego Monsters
. They have available vampires, werewolves, ghosts, mummies and zombies. 
Shown here is my favorite: Vampyre Castle
. Don't you think Lego is a great way to add some healthy fun to Halloween Entertainment? 
 

 LEGO Monster Fighters 9463 The Werewolf

The Monsters Werewolf Set includes a spooky tree, a car and a firefighter. Aimed at kids aged 7 through 14 years old. 

 

 Lego Monster Fighters Ghost 30201

The ghost is a must have for any Lego Halloween game and glows in the dark. Aimed at kids age 6 and up, the set has 31 pieces in all. 

 

Lego Monster Fighters 9465 – The Zombies  

This set has 4 Minifigures Including Jack McHammer, Zombie Bride, Zombie Groom, & Zombie Driver. There is a car, a zombie tomb and Jack has a hammer to destroy the zombies with. 

Aimed at children of 8 years and older. 

 

LEGO Monster Fighters 9462 The Mummy  

It may not look it, but this is a fun set with a chariot and a skeleton horse as well as a helicopter and of course a mummy. 

For kids between 7 and 14 years old. 

 

LEGO Monster Fighters 9464 The Vampyre Hearse

The Vampire Hearse is really a vampire bat mobile like vehicle: armed and all. This set contains two vampires and one Lego minifigure to fight them. It seems an unfair battle to me, because there are more vampires and all the other minifigure has is a motorbike. Ah well, I guess your kids will have to use their other Lego sets to make for a more even fight. 

For kids between 8 and 14 years old. 

 

LEGO Monster Fighters 9468 Vampyre Castle 

This vampire castle is my favorite Halloween Lego set, but it is not cheap. However, for the price you don't just get a cool castle with moonstone device, shooting spiders, hidden spikes, trapdoor, stairs, secret entrances, coffin, organ and dungeon, but also a stunning car for the hero.